Le 16 novembre 2016, 09:07 dans Humeurs • 0
Your big day is just around the corner and you simply cannot wait to get married to the love of your life. There are functions which demand you to look your best, eleventh-hour shopping trips, and a plethora of preparations which you must make before that much anticipated day. It is at this time that you realize the reason why every bride needs her girl gang by her side to help her brace up for this important occasion. Being a bridesmaid is much more than wearing pretty clothes and clicking pictures with the bride. It's a responsibility when the gang has to turn into expert wedding planners so that the bride can keep calm on the wedding day. Wondering how? Here are 7 ways your bridesmaid can help you stay away from all the pre-wedding anxieties!
1. By helping you organize every function perfectly.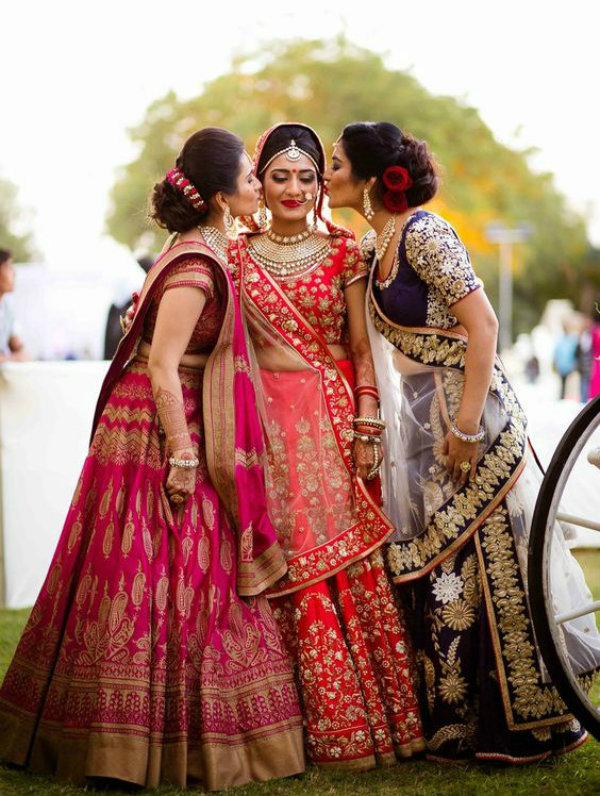 Images: lace wedding dress
PinterestWith all the back-to-back functions and the constant pressure to look good, it's really hard to keep a check on everything. That's the time when you start getting anxious about everything. Shove the worries aside because your bridesmaid knows how to take care of everything. She knows how to handle everything perfectly so that your fairytale wedding turns out to be a grand success!
2. By choosing a stunning lehenga or a gown for your wedding.
Pinterest/ Manish MalhotraShe knows your fashion choices and exactly what looks good on you and that's why you trust all her fashion decisions. This fashionista friend of yours helps you select the best lehenga or gown and also helps you choose the most stunning jewellery and shoes for the wedding day. Now that definitely relieves you of the anxiety and makes you more excited for the event.
3. By throwing the best bachelorette party.
PinterestWedding functions can be very hectic and that's why a rocking pre-bridal party with your girl pals is a must. Your bridesmaid definitely knows what to do and who to invite to make it an incredibly fun affair!
4. By taking over the responsibility of making your sangeet night the best night.
PinterestThis friend is famously known as the Saroj Khan of your group. With vibrant colours, pretty people and amazing dance numbers on the stage, this friend should definitely get the credit for the success of your Mehendi and Sangeet ceremony.
5. Being by your side all the time on your wedding.
PinterestThe day has finally arrived and we know you just can't stay calm. This is why your best friend is there by your side to help you out with the most trivial things so that you can focus on the ceremony. Ain't that sweet, guys?
Related: wedding dresses australia
6. By capturing your precious moments perfectly with a camera.
You must definitely have that one photographer friend as your bridesmaid who knows how to freeze the most beautiful moments of your life. She is never tired of taking pictures of your dazzling white smile. Do you know how you can strike the best pose for every frame she clicks? Watch the Colgate Visible White video featuring Sonam Kapoor with your bridesmaid to know more.